An Interview: Lauren Geremia
BY Steve Napier | Dec 08, 2016 | Interior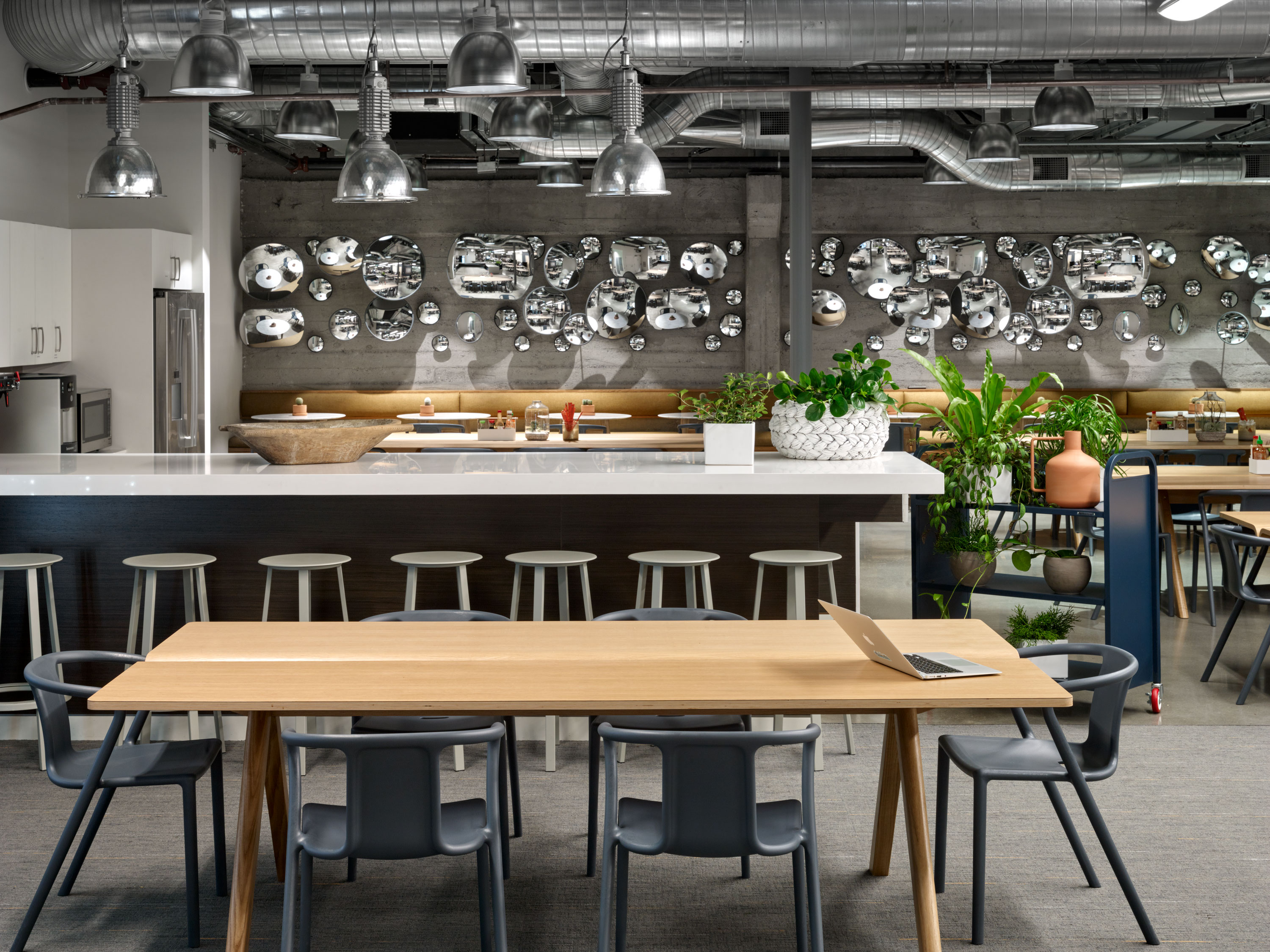 We interview Lauren Geremia, founder and principal designer of Geremia Design. She has been acclaimed by Forbes Magazine's "30 Under 30" and Architectural Digest's "Ones to Watch."
Stephen Napier: How did you start out?
Lauren Geremia: This is basically my first job. I never worked for an architecture or design firm. I think that has shaped a little bit of my idea of work and my approach to design, but it also probably made a lot of things harder! So I didn't really have any experience working for any designers or architects, but I did go to the Rhode Island School of Design [RISD], and that has been pretty helpful. 
RISD [pronounced "RIS-DEE"] is an art school with a strong reputation and an even stronger network of people that went to the school. Pretty much anyone that comes out of RISD does something relatively interesting. It's a small school that focuses on a liberal arts education. You're cross-registered and can take classes at MIT and Brown—it's an interesting school with good funding and a great alumni. It's something I've relied on a lot for resources, ideas, and community.
 
The focuses of RISD and the majors it offers all kind of have a lot to do with my work—furniture design, painting, and photography. I've been able to incorporate a lot of friends, which has made my job fun.
SN: In what ways was your lack of an architectural or interior design background a stumbling block? Conversely, how did your different perspective help? 
LG: My unique approach to the field meant I had to learn some things the hard way, but for the most part it's been a huge asset. I've had the opportunity to come to the conversation with fresh eyes, full confidence and a curious willingness to learn everything.  
SN: When did you start your studio?
LG: That kind of depends on how you look at it. I started doing design work in 2004 after graduating from RISD that year. I was providing design assistance for styling and retail work.   
I moved up to San Francisco. My boyfriend at that time was a painter—that's what I went to school for too, painting.
SN: So you didn't study to become an architect or interior designer—you just had an inherent curiosity?
LG: Yes, in fact I'm still learning a lot about space! For example, my most recent project was an intimate garden apartment in Greenwich Village, which provided some challenges due to low ceilings and access to light. It was an exciting challenge to discover how to brighten and expand the space successfully.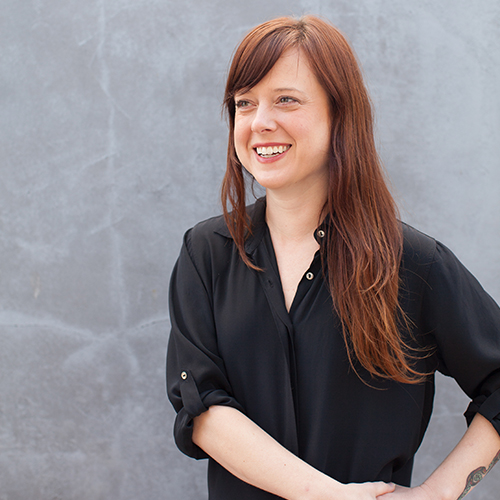 There are a lot of different areas to focus on in interior design. Some interior designers are not creative at all but offer incredible customer service. Some interior designers are actually architects, but they pick out furniture, and that's really valuable because they are a one-stop shop. Some interior designers offer a branding component and turn, say, your restaurant into a full-service brand.
 
We are an interior design firm that has bolstered my lack of experience by having people who can do really intense space planning around me while I am really interested with the products, furniture, and art. That is how I started.
 
I get to migrate my interests. It's not like we make just one product—we work with different types of people in different kinds of projects like commercial, residential, and hospitality. We design and make 65% of our furniture and have it fabricated all over the US. Sometimes, I devote about a month to learning about factories. Sometimes, I'm really interested in social media and marketing. Sometimes, I just want to really understand the psychology behind spending people's money for a living. There are different "buckets" of my job that I like learning more about, which definitely keeps me interested and reenergized. 
SN: What would you say are your major influences?
LG: Fine arts is definitely the biggest influence for me. I love talking to artists, understanding what clients would like about a piece of art, and translating somebody's needs through art. That's the most fun, best part about my job. On my time off, I go to art shows, I look at work online, and I surround myself with artist friends. That's my biggest influence—finding an amazing piece of artwork, and then we usually design around that.
It's not really just paintings or photography or something like that. Sometimes it's wallpaper or a really intense antique, classic piece of furniture.
 
Instead of a very robust sample library, instead of reading about new tile products out there, and instead of going to reps in showrooms and talking about Henry Miller furniture, most of what we do internally as a team is ideation around art.
SN: You seem to have focused on workplace design. 
LG: Honestly, it was just being in the right place at the right time. It's impossible to avoid workplace in San Francisco! It's just kind of the way it is. People here are spending way more money on their workplace than on their home, that's for sure.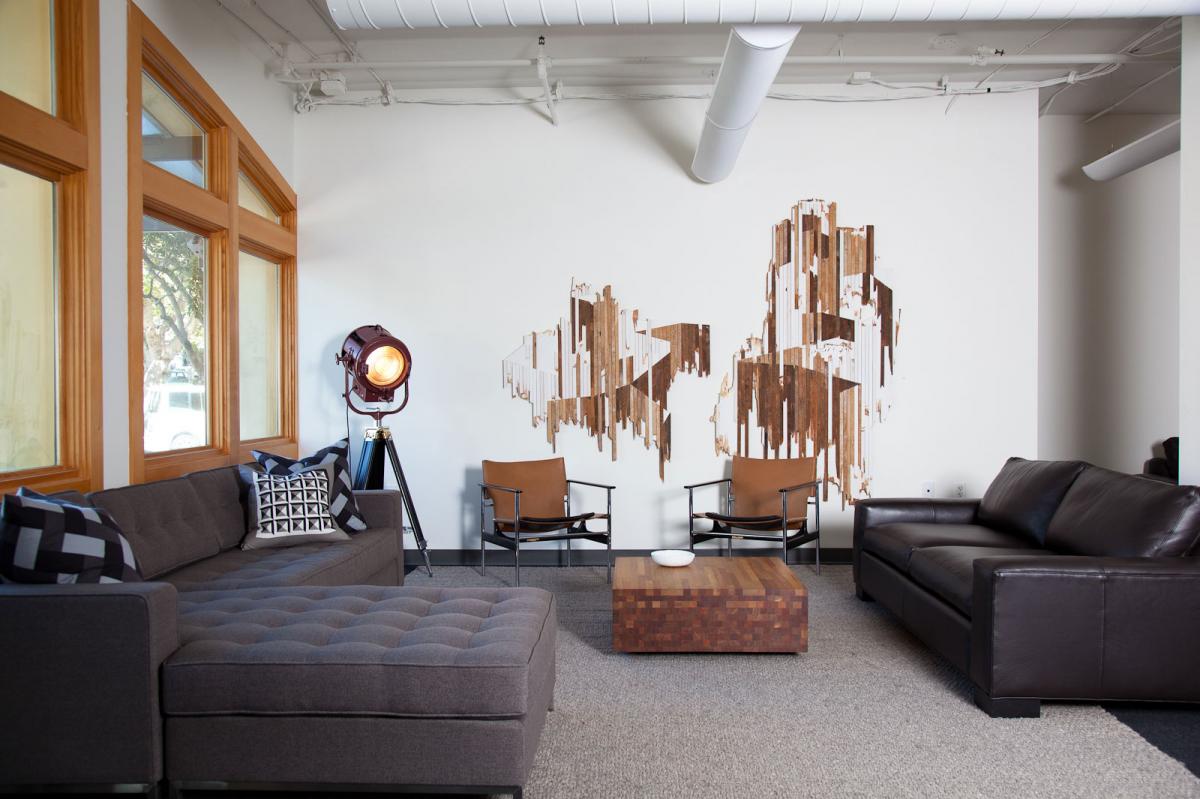 When the economy here exploded again, there was a ton of construction firms, a ton of design firms that also do the architecture, and design firms that do the branding—there was a lot of competition.
 
The priority shifted quickly in San Francisco, and the ideas of service and convenience are always changing. I've noticed a shift towards services that bring more lifestyle convenience and flexibility, freeing up time for personal pursuits. Congruently, I've seen less focus on personal connection, the senses, and the arts, which is one reason I advocate so passionately for these issues with my work. 
We just try to roll with it right now, try to expand my market and clientele to as many people as possible. I don't like working for one demographic. I don't like just solving how people work. I also like thinking about how people sleep, how they fall in love, and how they like to eat. San Francisco is catering to very specific experiences at this time.
 
SN: If we just focus on what you have done especially in workplaces, have you mostly done tech?
LG: There's been biotech, retail, and financial companies mixed in there, but a lot of it is tech. I got really lucky by being to work with very large and influential companies in the beginning when they were still forming their identity and brand. This was a time when people were super-inspired, things were growing, and all the news was good news. It was really fun to jump in at that time.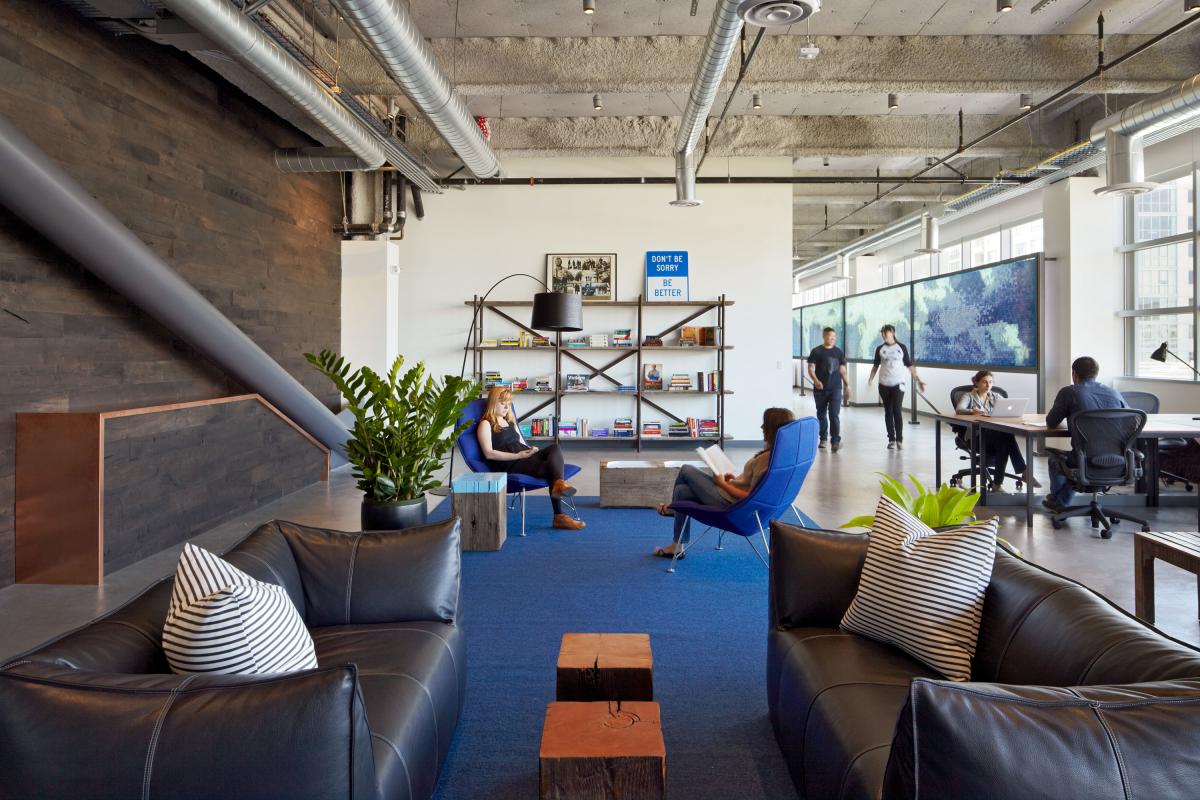 I learned a lot. Among my clients in tech were Dropbox, Path, and Instagram. 
For Dropbox, the company was growing rapidly, so we invested in modular systems that could be added to and transported. In the several years I worked for them, the firm was always growing, and new employees would arrive. My goal was to keep the new members comfortable and visually organized as they joined the firm's ranks.
 
For Instagram, it was a thrilling time to be involved—the firm was purchased by Facebook in the final days of our collaboration. Our work became integrated in the overall Facebook campus, and it was remarkable to watch the company journey to extreme success.
 
Path's founder, Dave Morin, is a champion of great modern design. It was exciting to work with him, as he loved being introduced to new products, furniture, and art. He had great vision, and it was fantastic for the collaboration to be in such alignment. Dave was sensitive to the inherent restrictions of office spaces. Since Path didn't own the building they used, it was challenging to find solutions to sound problems, fluorescent lighting, and building materials, since we couldn't make major changes. We're used to working within these restrictions, and Dave really supported us in negotiating for better material solutions. The design was better for it.
I had access to the founders of these companies, and they were obviously very smart and inspiring. They helped me want my business to be successful. I wanted to be a successful entrepreneur for the first time in my life, and that would never have happened otherwise. I learned about business rituals and running a company from them—like what programs they were using and where they found their best employees. 
SN: How is designing workplaces for tech companies different from others? 
LG: Tech companies exist in a startup mentality and ethos, and are always moving efficiently and quickly to stay current. They value workspace environments that reflect those qualities and are often willing to take creative methods to inspire and retain talented employees.  
SN: So do you still work for those kinds of companies?
LG: We work for 2-3 tech companies of various sizes at a time. We like to pick people whose products we understand or at least seems original, so we can comment on it through the design. We like to work with people who have decent ideas, obviously, or those who have respect for our expertise and design perspective.
SN: In your process, "discovery" is the first step. What initial questions do you ask clients about their design goals and needs. 
LG: The discovery stage is an important part of our process—we slow down to begin the conversation well, asking many questions and investing in research. We provide an in-depth survey to our clients to fully understand their needs, addressing questions of company culture, brand identity, workplace flow, and creative values.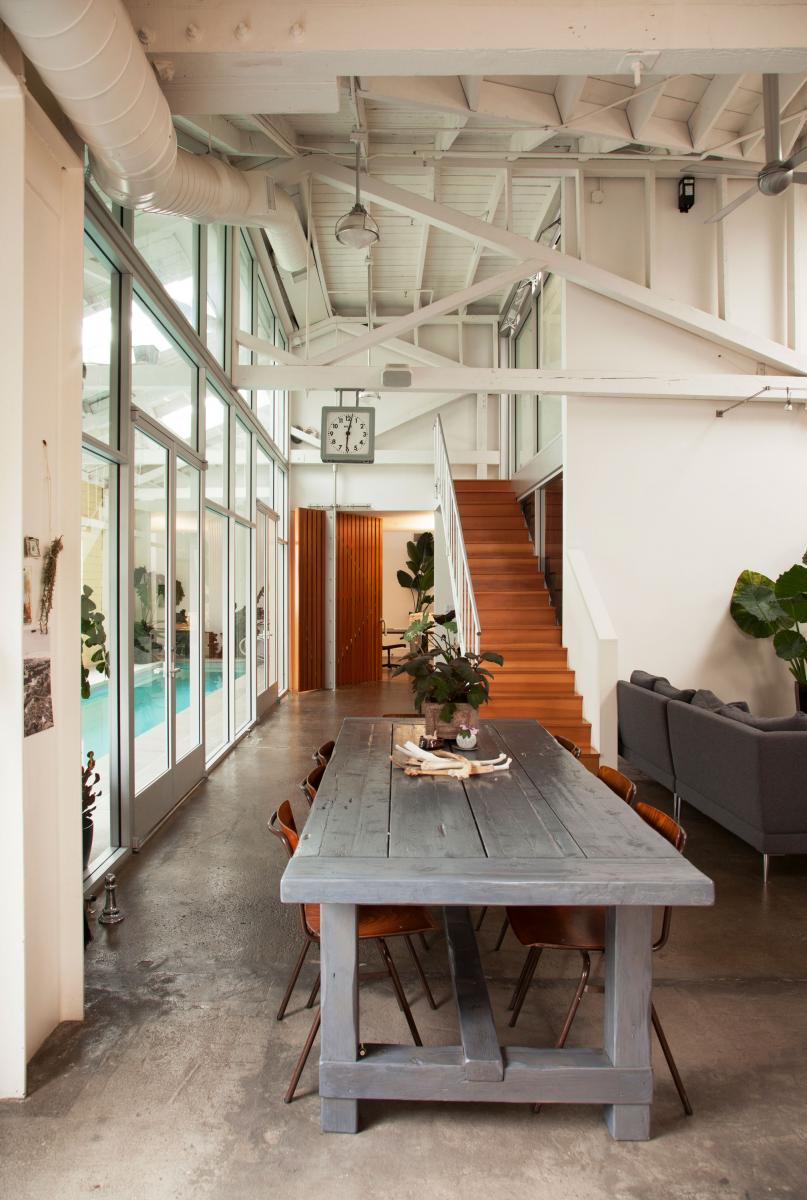 We like to work with people who are interested in building art collections. We like to be able to pick—even if it's a small budget, but they are willing to put a lot of that money back into local artists or causes that we're excited about. That would be a reason for us to take on a tech project right now.
 
We like designing furniture. If it's a platform where I get to work out a design for a standing desk or a product I think I can use again—I definitely get excited about that. 
SN: Do you follow trends in the workplace—do you focus on human behavior and trends in generational shifts?
LG: Those two things are connected. Right now, ergonomics is a huge trend. I have no idea if we'll find out five years from now if standing desks will have no impact on your health, but for now people are really willing to spend money and time on them. Ergonomics was not an issue a few years ago, but now people are really connected to their health. 
We like to design and build a lot of the furniture so it doesn't feel trendy. There are only so many products in the world. So if you're buying that 2010 lighting fixture from DWR, then I think you can really date a project. Because product lines can be limited, so we like mixing in antiques and being eclectic. We don't like there to be too much of a theme to make the design last as long and be as flexible as possible. This is something I care about for environmental reasons. Some people spend a lot of money on design that become irrelevant in a short amount of time.
I don't even know what to say about trends anymore. It seems like it's the same 2000 images rotating on Pinterest at any given moment, and then the next week there's 2000 more. I don't know… it just seems people are becoming kind of immune to cool-looking things!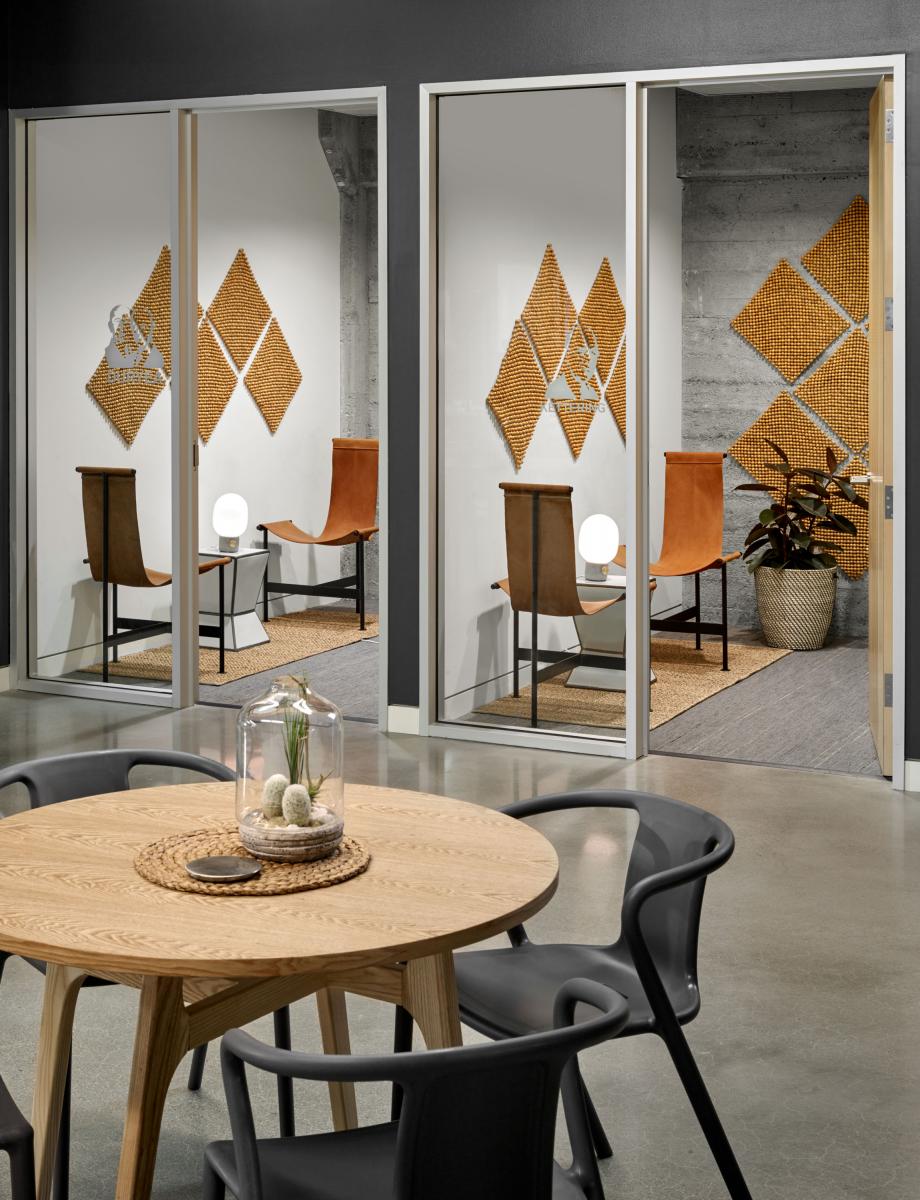 I used to focus on products in isolation—I would say I love this chair, and we have to use it; I want to support this artist, let's do so. But now it's really about what somebody can't do on their own. Anybody now can come up with a bunch of cool products and figure out how to track them down. In purchasing, most of my clients are better negotiators than I am! So what is my value here? Combining those items and coming up with a really interesting narrative and concept, solving problems, and creating products that are not out is how we add value. 
SN: Do you ever incorporate ABW ideas into your workplace designs?
LG: Absolutely, the theories of activity based working have been helpful. We've observed that employees are often in flow when a range of working environments are provided—community desks, personal space, lounges for intimate meetings, and phone rooms. 
In San Francisco, people really want to be comfortable. Comfort, lighting, and ergonomics are really huge in the Bay Area right now. Engineers, I think, are inherently sensitive people because they work long hours in front of a computer; they're sensitive to light and sound. 
SN: Are lighting and acoustics underrated aspects of workplace design? What are your design philosophies behind these? 
LG: Definitely. Sound abatement is a crucial component of each of our designs, and we are often looking to creative solutions beyond the typical approach. In our recent office project with Metromile, we sourced classic wood-bead car seats and installed them in a grid in the phone rooms. The pieces brought acoustic softness to the room while providing an interesting design detail. For lighting, we seek to include pieces that you might find in an elegant hotel, bar, or home to elevate and add inspiration to the workspace. 
SN: Could you give an example of a workplace project where the narrative led you to solve a problem more creatively than usual or led you create products you're particularly proud of?
LG: Metromile is an innovative car insurance company that approached us to complete their flagship San Francisco headquarters. We took on the concept of the road trip, which infused the design with leather and chrome material choices, large-scale photo murals that invoke car journeys, an installation of dozens of transportation mirrors in the kitchen, and a custom conference table with details that referenced car design. The vision definitely opened up our creative direction, resulting in one of our favorite projects from the past year. 

This article was first published by Woodform Architectural. The original version can be viewed here.