Why Modern Retail Brands Are Looking to the Past
BY Laura Agadoni | Sep 04, 2017 | Interior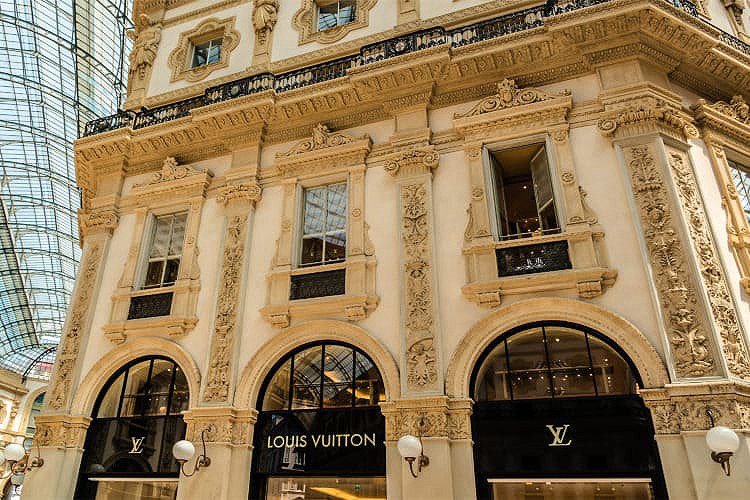 IN A WORLD THAT IS CHANGING AT A DIZZYING PACE,
ARCHITECTURAL NOSTALGIA IS BECOMING THE
COMPETITIVE ADVANTAGE OF SOME RETAIL BRANDS.
 
Dramatic and decadent designs are the hallmarks of the luxury fashion house Alexander McQueen. It's not just the clothes that capture the imagination; the walls of the brand's flagship store in New York City juxtapose surreal art with decorative moldings that reflect the seams of the heritage McQueen tailored jacket.
The Madison Avenue store is just one of the many examples of how brands are incorporating their own story into their physical spaces. Take Burberry, a brand with a long history that dates to 1856. Since Burberry produces signature scarves, its Chicago Michigan Avenue store features a scarf bar, with staff on hand to both explain the scarves' origin and to help customers create a customized version.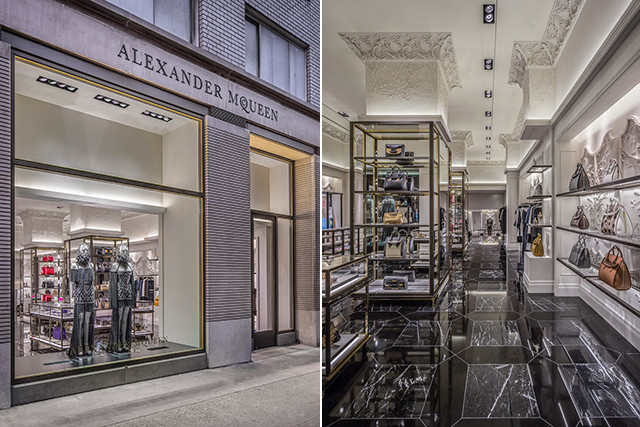 "A brand's story over time is a major component of why a brand is what it is today. Some retailers now include pieces of a brand's history as an homage to the past and an invitation into the retailer's culture," says Steve Jones, International Director at JLL.
Yet a rich heritage doesn't necessarily mean a long history; instead it's about celebrating the characteristics that make a brand unique.
Nostalgia triggers positive feelings
History can evoke nostalgia, and that can be good for retailers. A 2014 study published in the Journal of Consumer Research found that nostalgia triggers thoughts of social ties and a feeling of connectedness. Plus, the more socially connected people feel, the less they care about money.
"The study results remind me one of my favorite quotes," says Jones. "S. Truett Cathy, founder of Chick-fil-A, said, 'We live in a changing world, but we need to be reminded that the important things have not changed.'"
Yet there's a fine line between coming across as genuine or artificial. "Not all brands use nostalgia successfully and succeed in making a connection," says Jones. "The challenge for stores when incorporating historical elements is in choosing design concepts that will resonate with the customer," says Jones.
And getting it right has big benefits; if brands are successful in making a connection with their audience through nostalgia, they can personalize the shopping experience in an increasingly impersonal world. "Retailers are trying harder to make a connection with the customer as online shopping has made it more difficult to provide that connection," says Jones. "Nostalgia provides an effective way to quickly bond with an audience. And besides that, when people are moved by a feeling they get through nostalgia or even by experiencing a spectacular building, they tend to share that adventure on social media."
History remains a constant in a fast-changing world
It's not just what goes on inside the store that contributes to the concept of heritage. The outer architecture also has a role to play. Newer stores sometimes use heritage to distinguish themselves in the market by creating destinations. "It's all about providing a great customer experience," says Jones. "Unless a store provides that, people will shop online."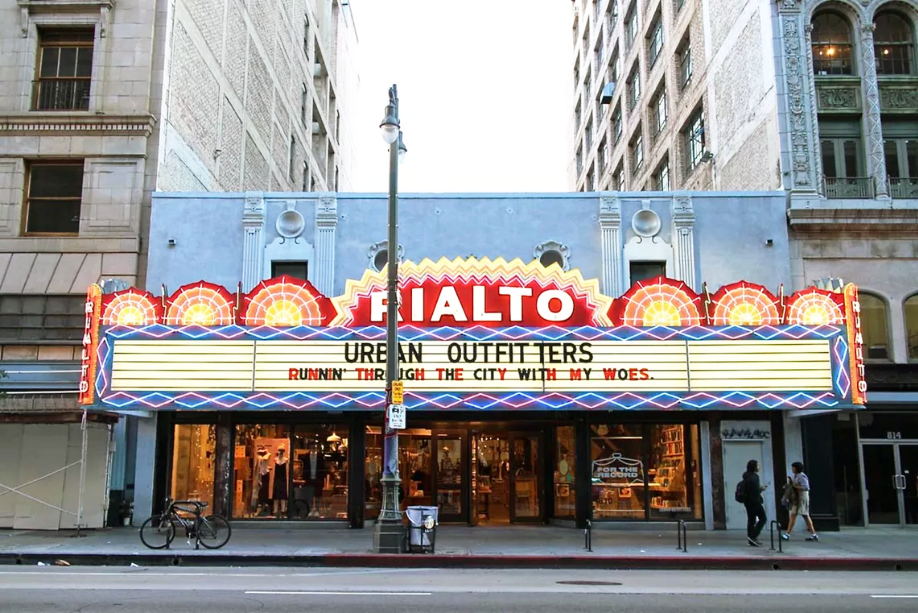 Urban Outfitters, founded in 1970, chose the iconic Los Angeles Rialto Theater as a launch pad to present Urban Outfitter's own narrative to help develop long-term relationships with its customers.
Restoration Hardware, founded in 1979, uses history as a selling point in its Boston store by housing itself in Boston's former Museum of Natural History, built in 1863. The rich history of the building presents a natural arena to present Restoration Hardware's own story, thus creating a sense of longevity and authenticity.
Yet an iconic building is not a must-have for all retailers, Jones says. "Restoration Hardware as a brand, for example, is using unique buildings as a way to connect with their customers, but I can't say that retailers are all trying to do that," he explains. "There aren't enough old buildings for retailers to do this, and they don't have to. They can use branded elements and highlight their past to use in their stores."
Importance of the experience
The ability to really bring the brand heritage to life is one of the big advantages that physical stores have over their online counterparts. By creating a sense of place, it turns a shopping trip into a shopping experience, encouraging people to linger and explore as opposed to an online world where shoppers are mainly concerned about convenience.
"An enchanting and engaging environment can shape perceptions about the brand," says Jones. "Whenever you can personalize the shopping experience and produce a positive reaction in customers, you've created a valuable brand asset."
However, just as every brand has its own image, so each space should truly reflect their own story. "Retail stores need to understand and appeal to their customers," says Jones. "For some retailers, bringing in brand elements and using historical images in new designs works. It provides a constant in an ever-changing world. Consumer preferences and shopping habits are continually changing, but the history and why you exist as a retailer shouldn't." 

This article was reprinted in its entirety from Real Views, a news site from JLL that features stories exploring the world of real estate and its impact on the wider business world. Read the original article here.
Download the report, "Retail Amenities Guide: 10 Cutting-Edge Concepts That Are Increasing Foot Traffic and Engagement," here. 
Topmost image of the Louis Vuitton shop at Galleria Vittorio Emanuele II at Piazza del Duomo Square, Milan, Italy, from Shutterstock.