Baths of Géronde by Nau Architecture
BY Steve Napier | Aug 27, 2015 | Landscape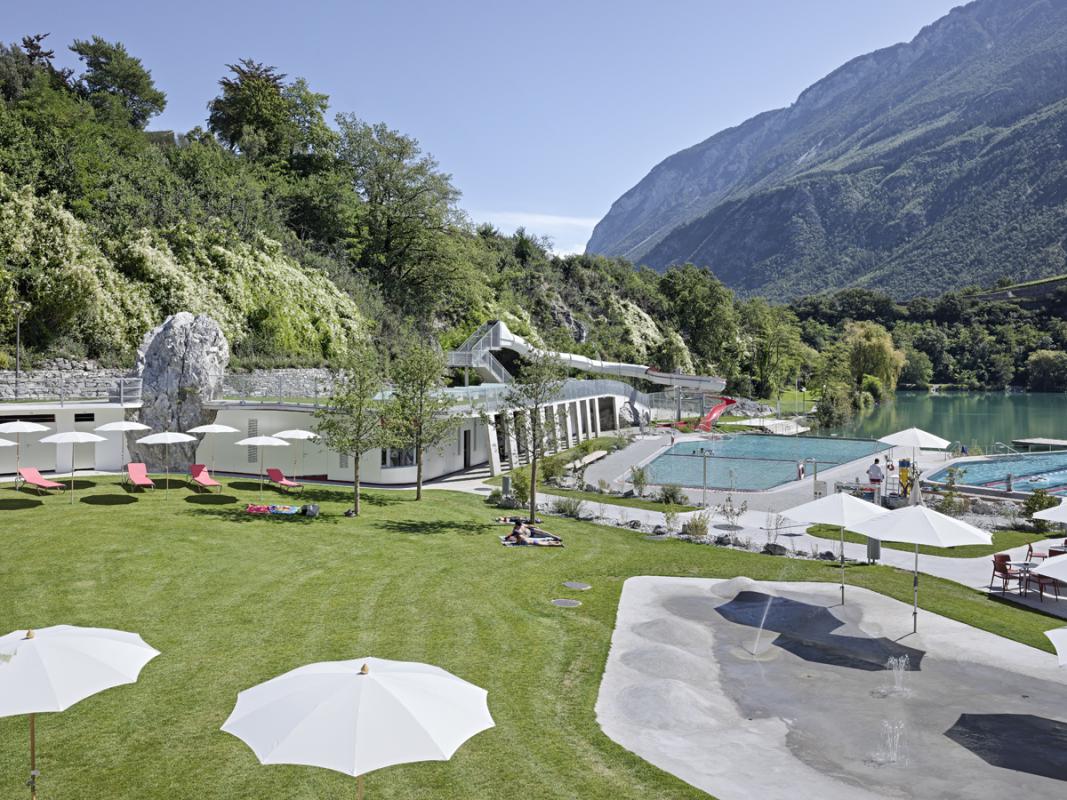 In the town of Sierre, Switzerland, residents warmly embrace the recent renovation of the Baths of Géronde. The 83-year-old modernist structure designed by Hans Bieri had fallen into disrepair and also lost its spiritual connection to Lac de Géronde, the picture-perfect lake that was the inspiration for this outdoor pool complex.
 
Aerial photos of the completed restoration, which was overseen by NAU (in collaboration with DGJ), reveal a master plan that reunites—with a fresh perspective—the eternal turquoise poise of the lake with the bright blue waters of the swimming pools while retaining the concrete neutrality envisioned by Bieri. While stunning, the snapshots do not quite give justice to the sensitivity applied by the two firms to this historical project.
 
As if carved from the rock face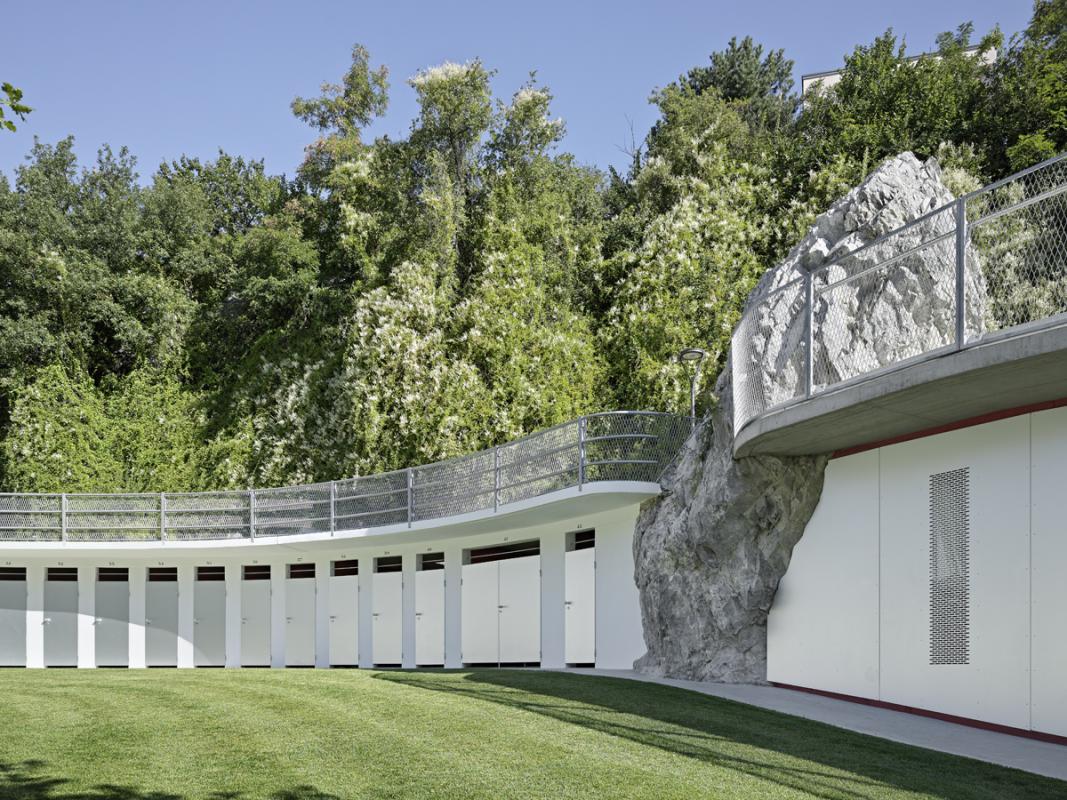 Embedded in the landscape, the original changing-room building by Bieri remains, looking as relevant as it did eight decades ago. An imposing boulder, so symbolic of the rugged terrain, was back then allowed to remain where it had stood for centuries. It bisected one end of this semicircular structure because rather than considering it an intrusion, Bieri believed it would represent a symbiotic relationship between man's architecture and Nature's design.
 
New locker rooms built along the eastern perimeter, as well as the ticket office and café on the west, lengthen the horseshoe-shaped geometry of Bieri's layout. These new arms, with their gently sloping, meandering rooftop walkways, functionally extend the old promenades (and now make more pleasurable casual strolls to and from the lake during the cold off-season months when the baths are closed). As an ode to Bieri's vision of integration, the added locker-room arm, too, snakes around another even more colossal boulder.
 
Using carefully curated materials—concrete, aluminium, and wood—the architects deftly realise a cohesion between the old and new architecture, one that is also sympathetic to the surrounding vegetation.
Watercolours
The architects replaced the dilapidated old swimming pool with two new ones, enabling them to insert a corridor in-between them for a more clear-cut access to the lake's boardwalk. Moreover, the water level of the new pools was raised to convey a sense of levitation over the lake as swimmers do their laps, providing a better view of their beloved Lac de Géronde each time they draw a breath.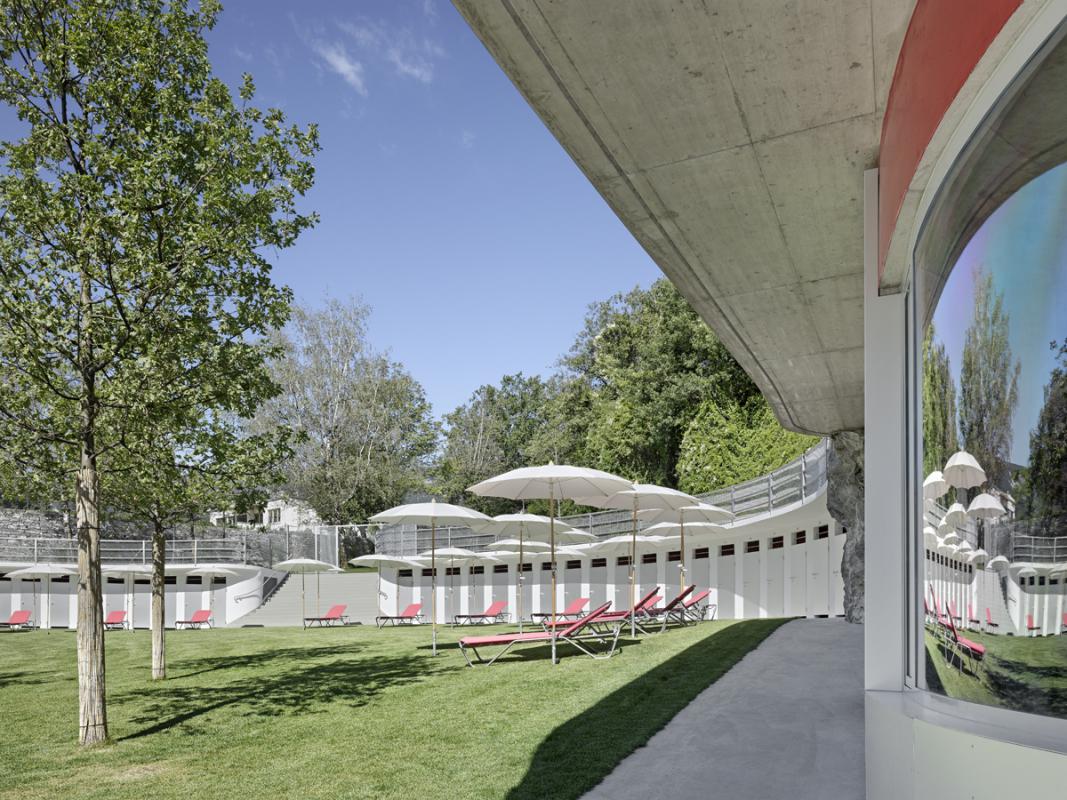 To create more visual interest, splashes of red dot the Baths of Géronde—in the deck chairs, swimming lane ropes, and twists and turns of the water slide. NAU and DGJ have accomplished the delicate restoration of a unique and outstanding piece of architecture by recalling its past while at the same time rewarding present-day users with the prospect of a surprisingly new experience. 

Architect: NAU Architecture, Drexler Guinand Jauslin Architekten
Photographer: Roger Frei