BY Stella Marren | Sep 12, 2017 | Landscape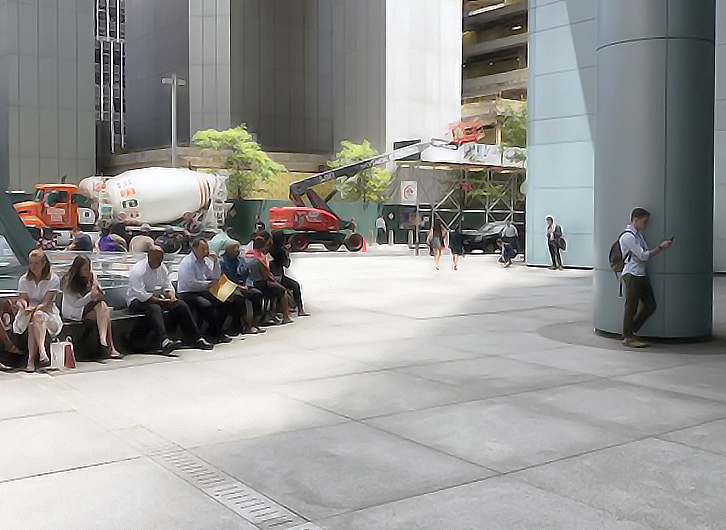 IN NEW YORK, A WELL-MEANING ZONING LAW
HAS FAILED TO LIVE UP TO ITS ORIGINAL LOFTY
INTENT, BUT PRAGMATIC SUGGESTIONS MAY
YET RETURN THESE PRIVATELY OWNED PUBLIC
SPACES TO THE PEOPLE.
 
If you're exploring Midtown Manhattan, you might notice the presence of small, mostly empty paved plazas at the base of skyscrapers. These banal spaces are the result of a specific policy tool meant to encourage public life and access to natural light in New York City while also allowing for high-rise development.
They're called Privately Owned Public Spaces, or POPS, and their origin can be traced back to a 1961 zoning resolution. That law offered real estate developers the opportunity to build taller buildings, but on the condition that they also provide some type of space for public use. These public spaces include outdoor areas such as parks, plazas, and arcades, as well as indoor atriums and lobbies.
Image above: seating and shade at 599 Lexington Avenue in New York City.
Between 1961 and 2000, over 16 million square feet of "extra" space was granted to building developers in exchange for the creation of more than 500 POPS, totaling approximately 80 acres [32.37 hectares] of space (the size of POPS are proportional to the bonus height granted to developers). When implemented, the law included few guidelines as to what forms POPS could take. There were no rules requiring seating, greenery, sunlight, or much else. Unsurprisingly then, many of the resultant "public plazas" were simply paved areas around buildings that offer few reasons for visitors to linger.
For decades, the efficacy of POPS has been a much-debated topic amongst urbanists. Just this year, multiple articles have discussed the flaws in the "trade" system of allowing for more private space in exchange for some—mostly unimaginative—"public" space. Depending on the author, the blame might rest with real estate developers for failing to design and maintain the spaces, the city government for failing to properly enforce the law, and/or the 1961 Zoning Resolution itself for the lack of clarity and rules. (See these 2017 articles in Gothamist and The New York Times.)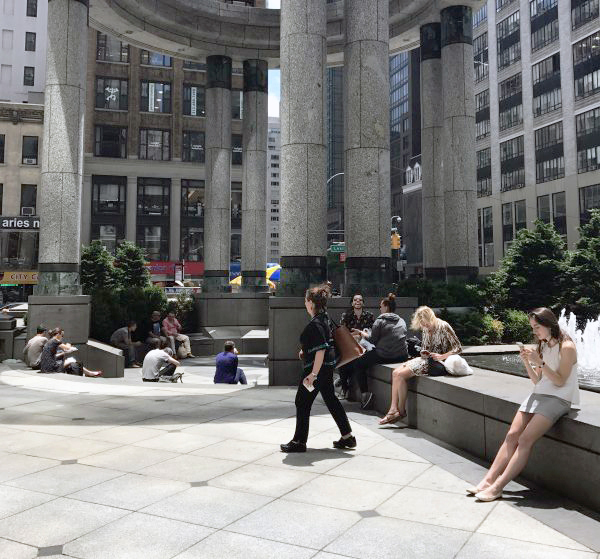 There are over one hundred POPS just within Manhattan's Central Midtown and Upper East Side. In order for these POPS to fulfill their purpose as public spaces, they need to be clearly accessible to everyone. True accessibility, in this instance, does not only entail certain physical characteristics of a space (e.g., if it is technically open and physically accessible to the public), but also whether it feels inviting to a range of people, rather than ambiguously public, exclusive, or intimidating. Using an online database for POPS, created by the Municipal Art Society and Advocates for Privately Owned Public Space, I located a handful of POPS to visit in Midtown Manhattan and went out to observe them using the Social Space Survey tool developed by Gehl Institute.
Beginning at 622 Third Avenue (at 40th Street), I walked up Lexington Avenue to 59th Street. From noon to 3 p.m., I was able to observe seven different POPS, taking note of what amenities each space had but also observing the different types of people in the space, how people were spending their time, and whether or not the space felt welcoming.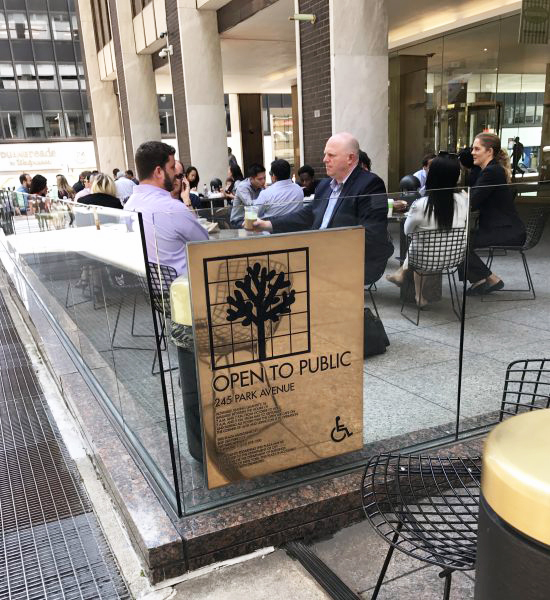 There was seating in most of the POPS—though it ranged in both quantity and quality—but those with more seating options consistently had more people present. The spaces with more greenery, sunlight, and other special amenities like water features also seemed to attract more people. Because these POPS were built in places where there is a demand for bigger, taller commercial buildings, most of the people who choose to spend time in them are office workers. Importantly, a lack of obvious signage clearly identifying the POPS as open to the public made a number of the spaces feel inaccessible, especially those that were located inside buildings.
Overall, the lack of consistent signage, seating, and engaging amenities in the POPS that I observed prevented them from feeling truly accessible and welcoming to the public. Many of the POPS functioned as simply places to walk through, an entrance to a subway stop, or just a shady spot to check your phone. In other words: not entirely a waste of space but definitely falling short of their potential. Something as simple as clear and vibrant signage could allow for a greater number of people to feel more welcome in a space. The most active POPS I observed had amenities like café style seating, water features, and art installations, all of which made the space more inviting and therefore more lively.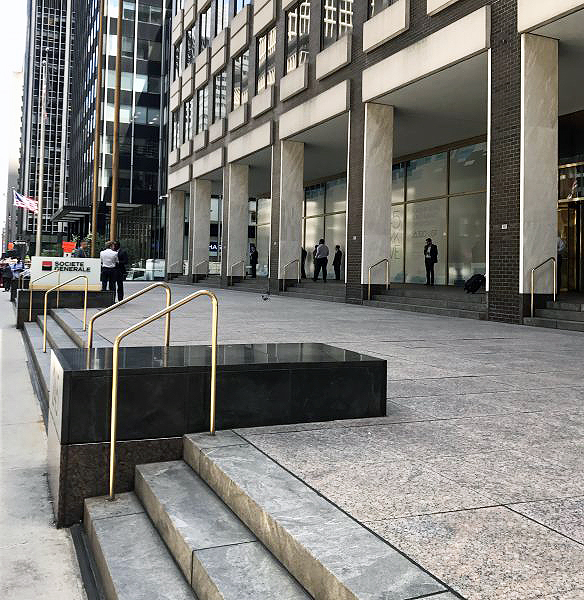 The New York City Council has also taken notice of the lack of enforcement on regulations for POPS, passing a new legislation in mid-June that puts more responsibility on building developers to create spaces that truly serve the public. The rules put forth in this legislation stemmed from an audit done by the City Controller, which revealed that over half of the POPS in NYC were violating the requirements to be a public space. The ruling requires that there be signage stating that the space is public, what hours it is open, and how to file a complaint about violations of these rules. This legislation also requires that POPS be inspected at least once every three years. Having observed how something as basic as clear signage can bring more people into a space, if developers follow these new regulations, this could allow for the public to actually receive the benefits from these public spaces. Moving forward, however, it is also the responsibility of the City Council to regulate these POPS and ensure that the developers are staying true to these laws.
POPS come from a place of great intention; they force developers and designers to think about the city as a place not just for skyscrapers but also for people at street level. However, the issue is that the incentive for developers to actually make these spaces inviting is lacking and the "privately owned' aspect of POPS makes it hard to advocate for more imaginative designs or uses. As members of the public, we are entitled to use these spaces and should try our best to take advantage of them with the help of tools like the MAS/APOPS website. The responsibility to make these spaces known and actually accessible to the public falls on not only the property owners but also the city to enforce these regulations. There is still great untapped potential in POPS, and we should continue to learn from their successes and failures to create better regulatory tools that can provide real public benefit. 

This article was reprinted in its entirety through the courtesy of the Gehl Institute. Read the original article here.