Timber Flooring the Inimitably Danish Way
BY Steve Napier | Sep 20, 2017 | Product Stories
AN OLD SAW MILL, A PASSION FOR WOOD,
A PROFOUND RESPECT FOR THE FOREST,
AND A CENTURY OF FINE-TUNING ITS
CRAFTSMANSHIP SUFFUSES THE ETHOS
OF FAMILY-OWNED DINESEN. 
 
Imagine the sense of wonderment one would feel walking on wooden flooring that is the culmination of generations of Danish artisanal excellence. Imagine the romance of knowing that these same planks overlay not just elegant private homes but also grand hotels, galleries, museums, churches, manors, and even castles around the world.
 
For four generations of the Dinesen family, life has revolved around the old sawmill built by their patriarch, Hans Peter Dinesen, in the small town of Jels. Established in 1898, the Dinesen family business has been conducted with an overriding regard for craftsmanship and a sense of awe toward nature's most majestic trees, some as old as two centuries—dual passions passed on from father to son for the last 119 years. Today, great-grandchild Thomas Dinesen and his wife, Heidi, manage the business.
Image above: To English architect John Pawson, the encounter
between wall and floor is just as architecturally essential as the
distribution of space. "You want to work with people who are as
obsessive as you are yourself. Architects rely on their choice of
partner to succeed in their careers and endeavours. My work
would not be the same without Dinesen."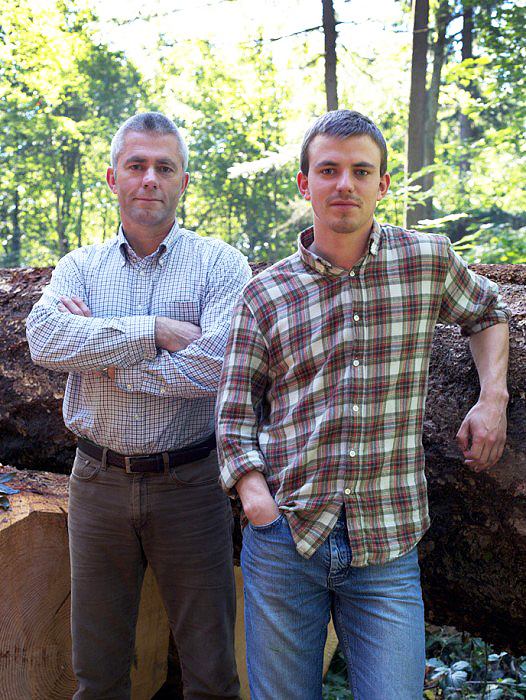 As if tree whisperers, the Dinesen family has learned to unveil the inner secrets of different species of trees. Old oak trees, for example, tell a very special story. The hard winters, dry summers, lashing storms, and unforgiving winds they have lived through leave traces that can be seen in the annual rings and the size of the knots, while others appear only when the tree is sawn-up.
 
During the cutting and drying process, the wood has to release the inner tensions from a long life in the woods, leaving characteristic cracks in the tree. In Dinesen's HeartOak, butterfly joints made of oak—a particularly beautiful and reverent detail—lock these cracks.
 
"Oak trees have a uniquely rich personality. We pride ourselves in making floors that respect and preserve the personality of the original tree," says Thomas, who is a qualified forester. "Anything else would be disrespectful to the huge oak trees, which are normally between 150 and 200 years old, and to all the foresters who have tended them for centuries."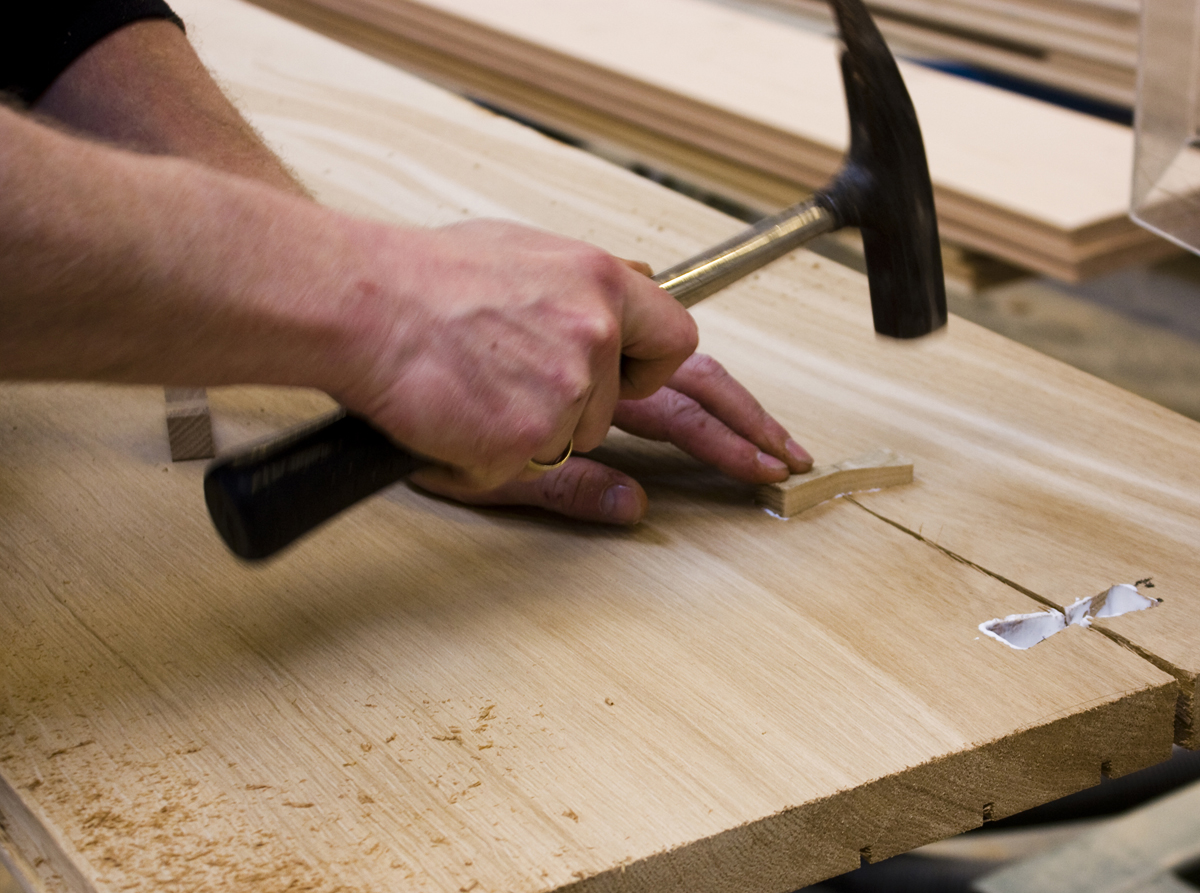 Douglas fir—harder than pine and other firs, with far fewer knots—can grow up to 60 metres high. In its production facilities in Denmark, Dinesen combines the latest technology with its traditional virtues of craftsmanship to make planks that express the unique grain of Douglas firs. Understanding the irreplaceable importance of the eye test when carried out by experienced men and women, every single plank is passed through ten pairs of hands on its way through the production.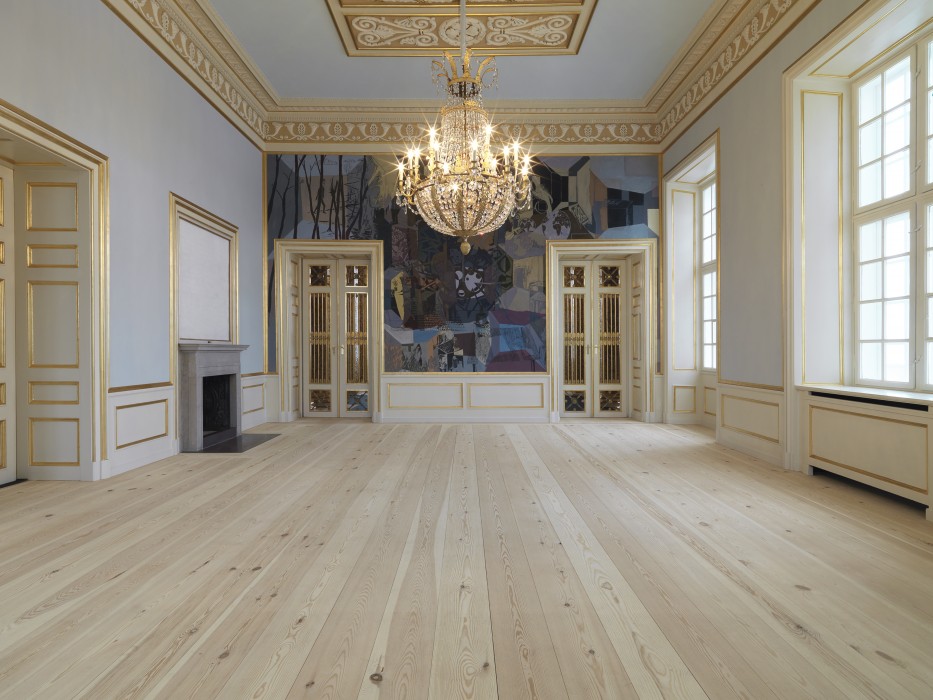 Long and wide solid planks have become Dinesen's signature. (Dinesen Douglas is produced up to 15 metres long, 45 centimetres wide and 35 millimetres thick.)
 
Dinesen sources its raw wood from the best European forests that have been carefully tended and looked after for generations. Given the company's rigorous quality demands, Dinesen only accepts the best part of the trunk, which is then processed with the greatest respect for colour, growth rings, and knots.
 
"We need the finest raw materials, and we need to know how they've been grown," says Thomas. "Then, we need to treat the raw materials with passion, care, and commitment in order for the rest of the process to succeed. Both the raw materials and our commitment are crucial to the final result."
 
Dinesen Douglas's sublime qualities have inspired architects to adapt it to uses beyond flooring. In Japan, architects have used a special axe-shaping technique to give the planks a rustic, undulating surface. Other architects and designers have used the planks for stairs, walls, and ceilings, in addition to furniture. 

Visit Dinesen to learn more about its singular solutions with wood, since 1898.