One Million New Homes, One Thousand Thriving Neighbourhoods
BY HASSELL | Jul 31, 2017 | Urban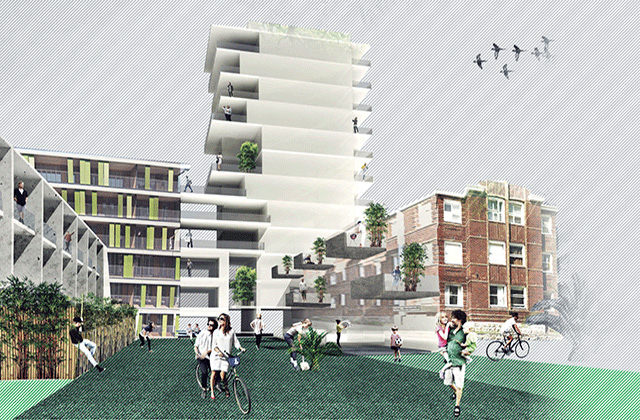 IS IT POSSIBLE TO DELIVER HOUSING WITH LONDON DENSITY, SYDNEY QUALITY, AND SHANGHAI SPEED?
 
Major cities around the world face a common challenge: how to provide additional affordable housing in the face of rapid growth. But is there also a common solution? We wanted to find out, so we decided to look at the housing issues in three international cities—London, Shanghai, and Sydney. 
Are there challenges they share, or are they unique to each location? And what—if anything—can each city learn from the other two?
Our global study involved collaboration between our studios in each of these three cities—Sydney, Shanghai, and London.
We selected a common housing type in each of these cities: the walk-up apartment block in Sydney, the Xincun "super block" in Shanghai, and the typical London row house.

The issues all cities face
We identified three key issues for cities trying to manage their housing needs:
Housing density: the critical mass required to support shared city systems
Housing quality: the diversity and legibility of a place to create more liveable communities—i.e., places that offer a variety of private, shared, and public space; support social equity; and enhance environmental quality
Housing delivery: the pace at which housing supply meets demand, which is fundamental to maintaining affordability within the market
We looked at how each of the three cities we studied performed on all three of these measures. What we found was that while each city does well in one or maybe even two areas, they don't fare well on all three.
For Sydney, density is a major issue. In Shanghai, quality is a big concern. And in London, there is a struggle to deliver on the urgent demand for housing.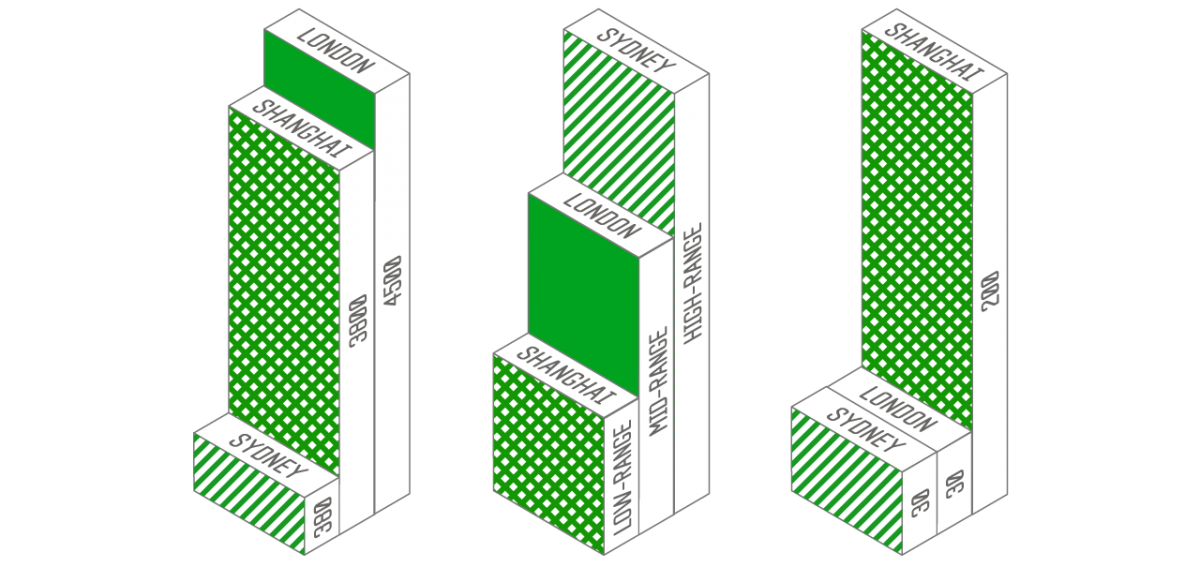 FAST FACTS
• Sydney has the second least-affordable housing in the world.
• More than half of Shanghai's housing is to be renewed in the next 20 years.
• In London, 1 in 10 people are on a social housing waiting list.
More housing, more space
We then looked at how we could transform the three housing types to generate better social, cultural, economic, and environmental outcomes for the cities—and the people who live there.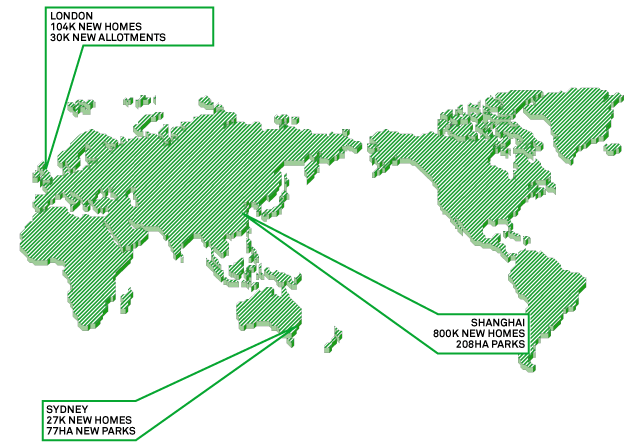 In Sydney, we considered renewal on a scale larger than a single lot. Through a combination of demolition and new construction, we could double the number of apartments and create 77,000 square metres of new green space.
In Shanghai, we proposed removing old industrial buildings in strategic locations close to schools and community facilities. That would allow us to create shared, centrally-located community facilities and space for new parks.
This approach could give more than 1.8 million people higher-quality, better-connected communities with more green, public open space and better community amenities.
In London, we removed back fences to create a consolidated "backyard" that opens up the potential for subdividing houses. If we applied that approach to just 10 percent of the city's row houses, we could establish more than 100,000 new homes along with 30,000 new garden allotments.
Together, our design ideas would deliver up to one million new inner-city homes and up to 1000 great neighbourhoods across the three cities. 

This article was reprinted through the courtesy of HASSELL Studio. Read the original article here. Read the full report, "1,000,00 New Homes, 1,000 Thriving Neighbourhoods," here.