Why Sydney Needs Barangaroo Reserve
BY Irene Crowo Nielsen | May 04, 2017 | Landscape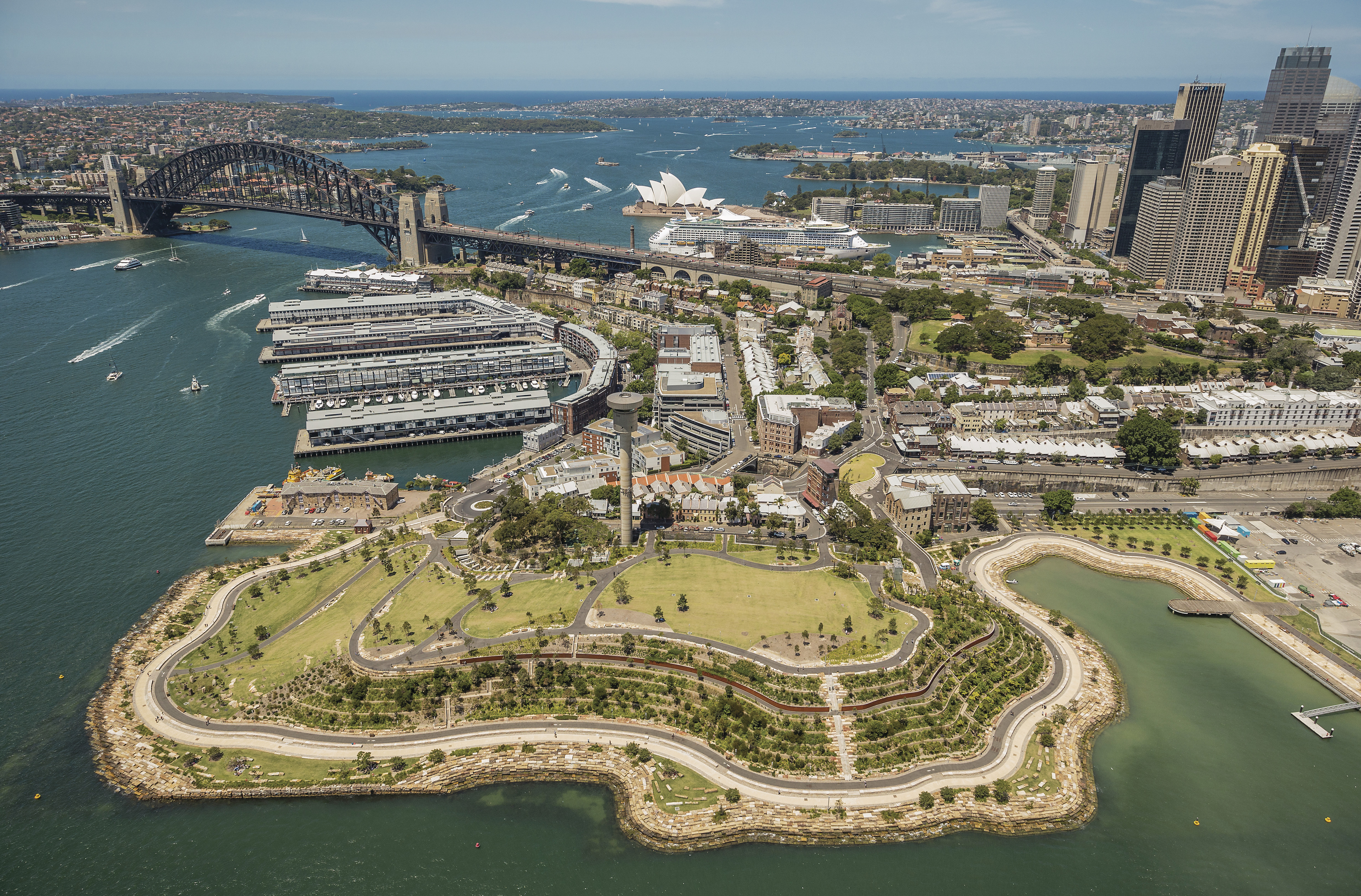 Move over Opera House, Darling Harbour, Harbour Bridge, and Bondi Beach, there's a new kid in town. Barangaroo Reserve is definitely competing for a top-three spot for tourist attractions in Sydney, with already 1.8 million visitors since it opened in August 2015.
A six-hectare abandoned industrial dock area in Sydney Harbor dating all the way back to 1836 is now gone. Rising from its ashes is the Barangaroo Reserve, a lush headland park with its historical shoreline reclaimed. The land has literally been lifted 18 meters to match its original landform profile. Local residents are able to walk straight out from their houses and visitors are able to walk directly from the streets, through the park, towards the harbor for the first time in 140 years! Imagine the views!
Peter Walker and Partners Landscape Architecture (PWP), in association with Sydney-based Johnson Pilton Walker Architects and Landscape Architects, set out on the task to design and recreate the historic headland. Inspired by vintage paintings, plans, and photography, all documented with geomorphic evidence, they set out on the challenge together with a team of engineers, botanists, horticultural guides, and soil scientists. How did they fulfill this historically important task?
What is Barangaroo Reserve?
Barangaroo was a powerful Aboriginal woman who played an important role in the early days of colonial Sydney. One of her husbands was Bennelong, after whom Bennelong Point—the site of the Sydney Opera House—is named. The two distinguished names now bookend the eastern and western points of Sydney's CBD.
Barangaroo Reserve is a recreated headland park situated on the Western Harbor foreshore of Sydney´s Central Business District; it opened in September 2015. Before 1836, one could walk around Sydney´s foreshore without losing connection to the waterfront.
Miller's Point was the headland's original name before it was dramatically cut away in 1836 to make room for wharves, containers, and maritime industrialization, which continued all the way into the 1960s. The beautiful foreshore of Sydney was closed to the public and has been closed ever since, until now.
Designing with Levels
PWP Landscape Architecture has cleverly designed the park in three levels: Level 1 being the Wulugul Walk/Promenade, Level 2 being the Waranara Terrace, and the upper Level 3 being the Stargazer Lawn.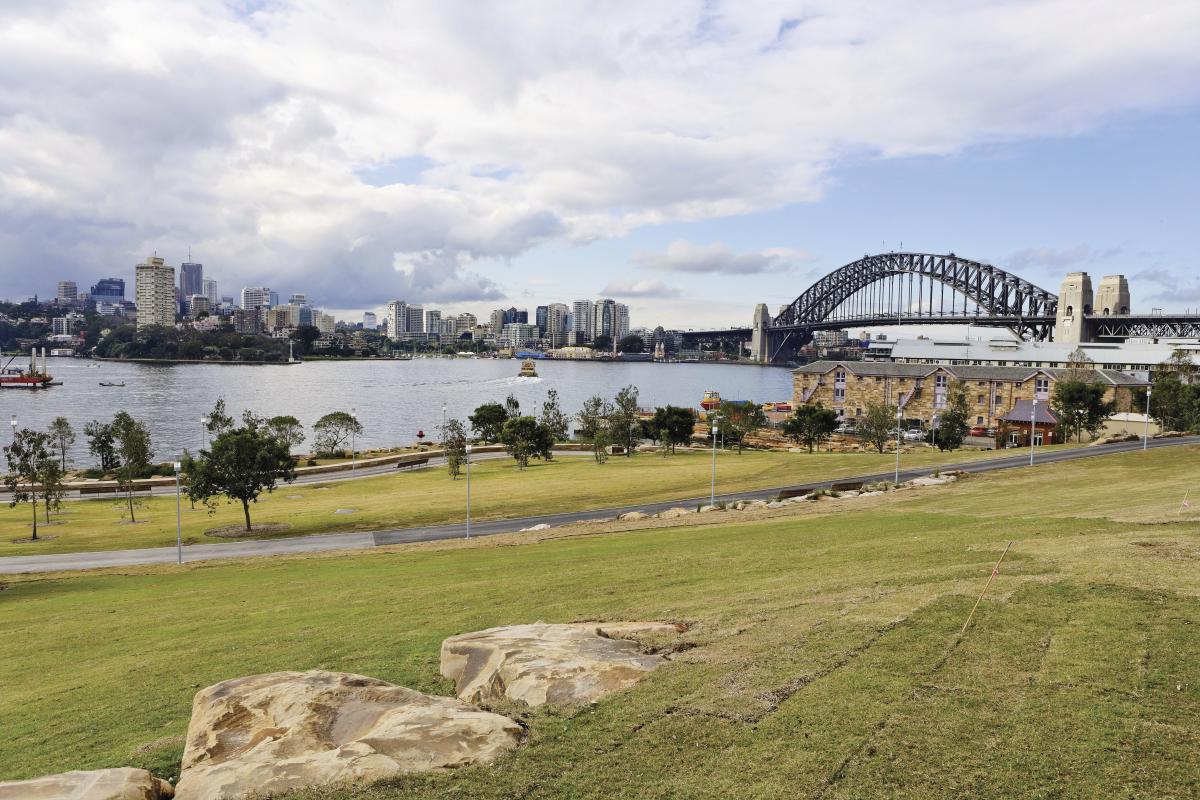 The Wulugul Walk Promenade runs along the harbor in a 2-km continuous public waterfront walk alongside a stone wall marking the historic 1836 foreshore edge.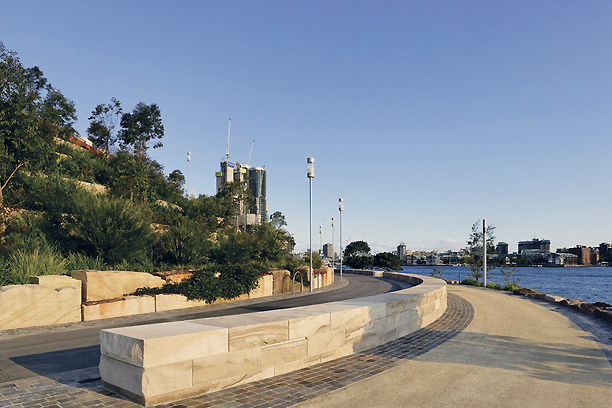 Wulugul Walk
Wulugul Walk is built with large sandstone blocks, a material that references both the topography and the building material of early Sydney. The style represents the natural formation known of the coast as "tessellated pavement," which bears its name because it is a relatively flat rock fractured into polygonal blocks that resemble the tiles of a mosaic floor.
The sandstone was excavated onsite using more than 10,000 sandstone blocks. When tidal water gets in the sandstone blocks, it creates different opportunities for engagement: sitting, looking at tidal pools, and rocky beaches, to mention a few.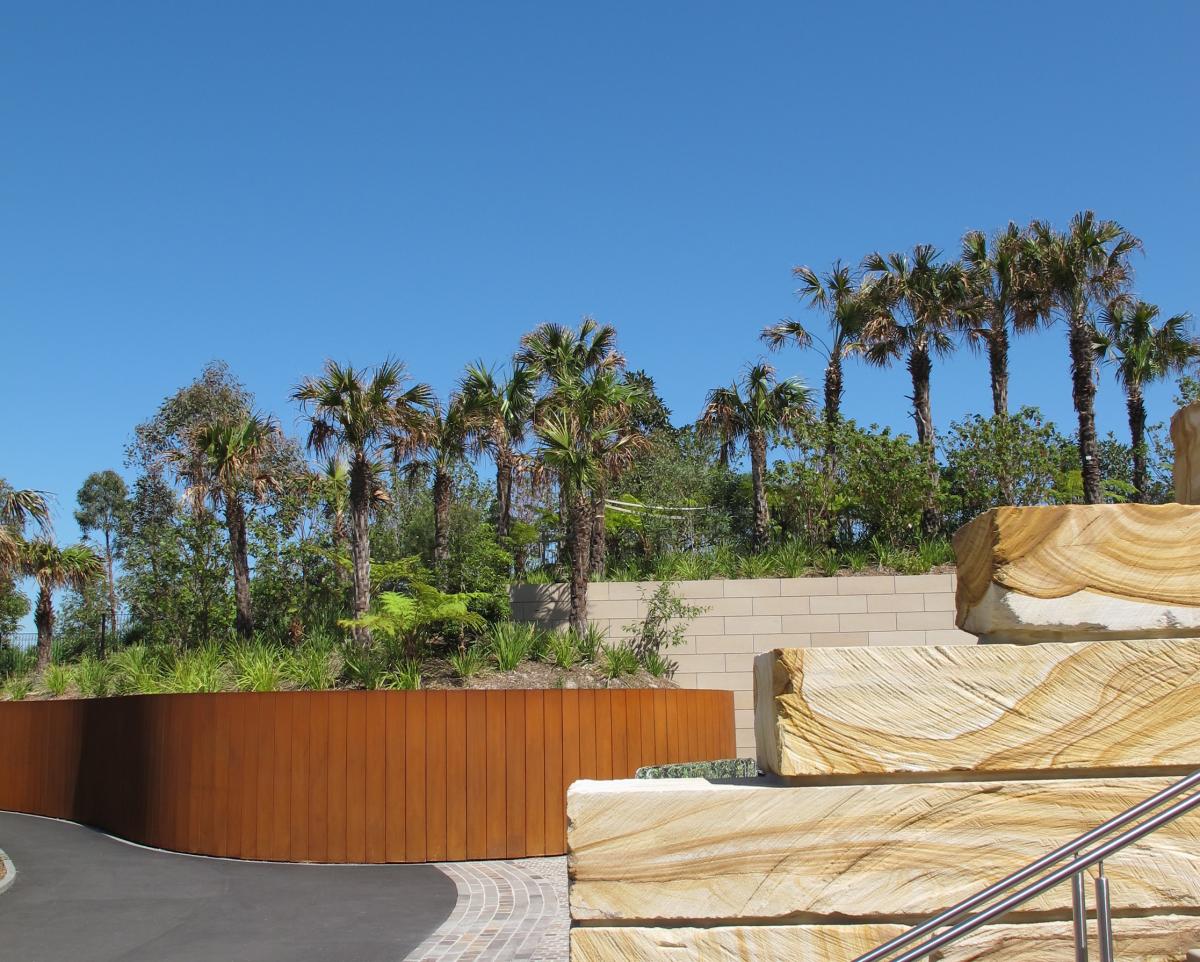 Waranara Terrace​
Waranara Terrace is a great contrast to the open Wulugul Wall Promenade. It is a more intimate, shaded path and is densely packed with bushes and native trees that runs upslope. It terminates at the Stargazer Lawn with picture-perfect views of the harbour.
Stargazer Lawn is the highest point of Headland Park. It has gentle slopes that invite users for relaxing recreation. In contrast to the shaded Waranara Terrace, Stargazer Lawn is more open but with clusters of large fig and eucalyptus trees.
Indigenous Planting
The vegetation strategy for Barangaroo Reserve has been important in the concept of the park, and the landscape architects state on their project site for Barangaroo Reserve a planting strategy that divides into three separate layers:
A ground-plane layer of plants varying from ½ meter to 2 meters in height
An understory of plants up to approximately 5 meters in height that gives the headland the distinctive shape of existing Sydney headlands
Canopy layers of trees 10 to 20 meters in height that form a series of cathedral-like spaces, above the bush planting layers.
75,000 Plantings Native Not Only to Australia
Barangaroo Reserve now consists of more than 75,000 plantings native not only to Australia, but which are site-specific to the Sydney region. In fact, 79 of the total 84 species chosen are native to Sydney Harbor dating 200 years back to the time of European settlement.
Many of these species were hard to find in the local nurseries, so seeds and cuttings were collected from wild sites around Sydney Harbor and the Hawkesbury River. Sixteen mature fig trees and 89 cabbage tree palms were transplanted into the park because the Authority wanted Barangaroo Reserve to open with maximum visual impact.
Much of the planting is on steep terraces that follow the line of the foreshore.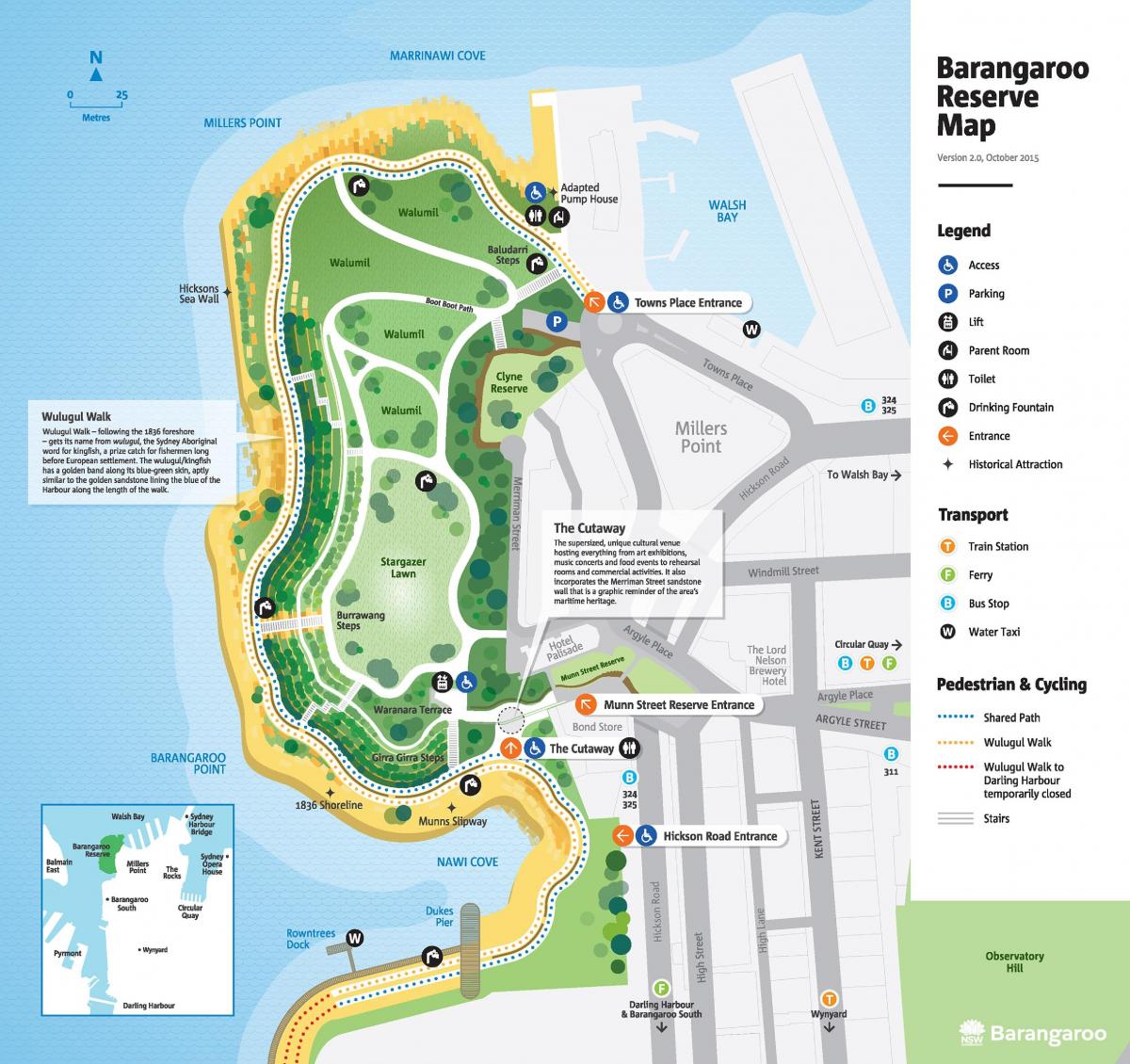 Experience Barangaroo
Being a visitor at Barangaroo Reserve is anything but boring. One could say it is a park and an entertainment space that appeals to all ages. The headland park features everything you need for an active or relaxing day out with your family or friends: bush walks, lawns perfect for picnics, shared walking and cycling tracks, and two new harbor coves. There is even a massive cultural space built beneath the park called "The Cutaway" that is used for indoor events and exhibitions.
Revitalized
PWP Landscape Architects and the rest of the team have successfully managed to revitalize a six-hectare, formerly impermeable container wharf into a six-hectare permeable headland park, mixing something old with something new. The connection with the other Sydney headlands has been restored while at the same time a complex ecological system has been implemented all together with a revitalized park!